Hey all,
I needed to remove the shock on my new cube stereo for inspection.
When trying to remove the trunnion bolts I discovered they where extremely tight.
Eventually I managed to get one out and found they are thread locked in, and they made from alloy and not steel.
When trying to remove the other bolt the head started to round out.
Very luckily I managed to remove the bolt with the help of some gentle heat but the bolt is now toast and needs replacing.
This maybe common knowledge to some but a warning to anyone that's not done this before.
If a bolt is extremely tight when it shouldn't be (14nm in this case) it's likely had a dose of thread lock.
Don't go for anything bigger than an allen key when trying to remove it, if you try to use a ratchet you're sure to round it out.
If you're straining the allen key trying to undo the bolt stop and Use a bit of gentle heat to weaken the thread lock before trying to undo it again.
A hair dryer may be able to get it hot enough, be very careful with a heat gun as you could quickly damage the paint.
In my case I have a small pencil torch which gives out a very accurate hot flame, which I directed into the head of the bolt.
With a bit of patience and luck it came out.
A liberal amount of thread lock was used on the bolt.
I believe I have found the correct bolt to replace it from Cube but I'm not 100% sure.
It's not coming from the UK and I have no Eta for when it will arrive.
Does anyone know where to get hold of one in the UK?
This is the bolt in question
In the meantime is there an alternative bolt I could use to get me out riding again.
I thought it would be easy to get hold of another bolt but it's proving tricky!
After looking into many different bolts the closest I can find is a partially threaded flange head titanium bolt.
something like this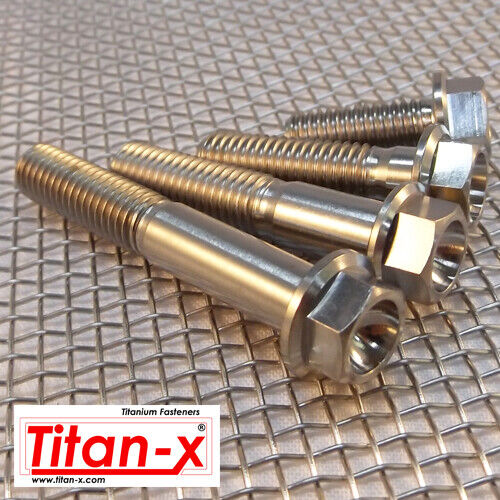 The head is slightly smaller than the original bolt at 17mm but I can use a 20mm washer to make that correct.
I'd also have to get a slightly longer bolt and shorten it to get the correct unthreaded length. This should be easy to do, my main concern is using a titanium bolt where an alloy bolt was used.
Is this an issue?
Lastly if there are any better options I'd welcome them greatly.
Cheers.
Last edited: